Matte Black Thermostatic Luxury Complete Shower System with Rough-in Valve
Regular price
$465.99 USD
Regular price
Sale price
$465.99 USD
Unit price
per
DESCRIPTION
It insists to make every product as artwork to decorate our home so that our customers can enjoy a relaxed and wonderful life after a long day time. Feature with air pressure and self-clean nozzle rain shower head, inject the air into rain showerhead to mix water with air, and the water pressure instantly, giving you a pleasant shower time, thermostatic pressure balance valve can avoid scalds because the water pressure change suddenly, and protect your family member especially elder and children.
LOFTLAND LFRB0842 Features
✅This matte shower system offers comfort powerful oxygen waterfall shower through air-injection technology. What's more, your skin cells would enjoy comfortable hydromassage and release pressure.
✅With a matte plated surface and solid thicker panel design, the rain shower set looks elegant. Had passed 24 hours of salt spray tests, corrosion resistance in wet bathrooms. Multi-layer matte-finished, resist daily scratches, corrosion, and tarnishing.
✅The thermostatic shower system's main body is manufactured from high-purity, low-lead brass, so hard that no burst water leakage for long-term use. Reliable shower protection from scalding and cold shocks, and overall compliance with our market standards. Bring you and your family long-term peace of mind. Our thermostatic pressure balance valve adds an adjustable water temperature settings function, can keep the safety temperature at 38°C. When the pressure of cold water or hot water supply suddenly changes, it can avoid sudden cold and hot problems/scalds, especially suitable for everybody. The thermostatic ceramic cartridge can survive 500,000 times open and close test. No drop and long-lifetime.
✅Injected air makes the water more delicate and energetic, saves more water, and offers a consistent powerful rain shower even under low water pressure. Using 20% less water.
✅Concealed installation design to make your bathroom neat, beautiful, and space-saving, if you want to replace your old shower system, please contact us, we will give you advice
Weights & Dimensions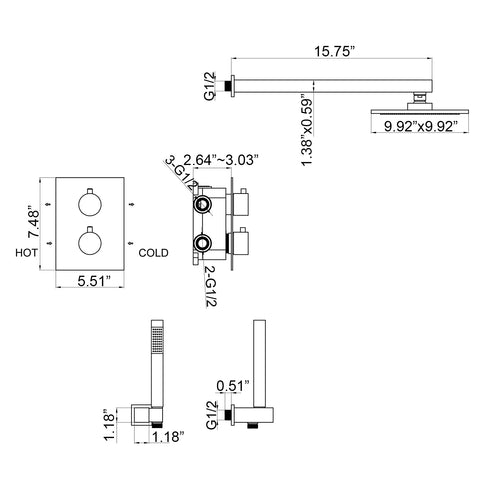 Shower Head: 0.1'' H x 9.92'' W x 15.75D
Overall Product Weight : 12.12 lb.
LOFTLAND LFRB0842 
Specifications:
Product Type:Complete Shower System
Mounting Location : Wall Mounted  
Adjustable Water Flow : Yes
Finish:Matte Black
Primary Material : Brass
Plating Materail : Stainless Steel
Drip-Free:Yes
Adjustable Water Flow:Yes
Flow Rate (Gallons Per Minute):1.5 Gallons Per Minute
All-In-One Kit : Yes
Shower Head Included : Yes      
Spray Pattern : Rain     
Shower Arm Included : Yes    
Hand Shower Included : Yes     
Diverter Required : Yes      
Required Valve Type : Ceramic Disc; Thermostatic
Rough-in Valve Included : Yes
Valve Cartridge Included : Yes      
Pipe Thread Type : NPT / IPS    
Wall Supply Elbow Included : Yes    
Handles Included : Yes   
Flange/Escutcheon Included : Yes     
Technologies : Temperature Memory    
Supplier Intended and Approved Use : Non Residential Use; Residential Use     
Country of Origin - Additional Details : China    
Number of Spray Patterns : 1   
Number of Shower Heads : 2
Specificationgs :

           
CSA Certified : Yes    
UL 1951 Listed : Yes    
Energy or Water Efficiency Certifications : Yes
Environmentally-Preferable or Lower Environmental Impact Certifications : Yes    
Fair Trade and Fair Labor Certifications : Yes    
Product Lifecycle Certifications : Yes     
Reduced Harmful Chemicals Certified : Yes


Assembly
Installation Required:Yes           

Warranty:
Commercial Warranty:No
Product Warranty:Yes
Warranty Length:1 Year
Full or Limited Warranty:Limited